Land purchase in the Amazon
Due to current events, we are now calling on all people to donate money to buy land in the Brazilian rainforest for the preservation of the indigenous peoples, flora and fauna.
Why now?
Due to the election results in Brazil, the rainforest and the indigenous tribes are massively threatened. We are all called to protect the last great living forest - the lungs of the earth - and also the last retreat for untouched cultures. Deforestation has already increased by 84% since September this year.
So we have no more time to loose. It is time to act.
How?
We want to make it possible for the befriended indigenous people to buy a piece of land in Acre, Brazil, in the community of Jordao. For over 5 years we have had personal contact with the Huni Kuin tribe - the true people.
++Update++ A new and much larger piece of land has opened up for the purchase. It is currently owned by a Brazilian farmer and is for sale. The location is strategically better as it borders on a small piece of land that is already privately owned by Huni Kuin on the Tarauacá River (bought about 20 years ago by the chief of Huni Kuin with prize money he won for a film). This larger piece of land also borders on land on the other side where UNCONTACTED Indigenous live. The acquisition of this piece of land would thus benefit both peoples. For this we have to collect about 300.000 Euro.
In principle, land is to be purchased in the Amazon region in order to bring it into the private possession of the indigenous people themselves and thus protect it from exploitation and offer the indigenous people a permanent habitat. What the reserves have achieved so far will no longer be safe in the future. The reserves are in state ownership and are now endangered.

At the end of January Alexandra travelled to Brasilia and Jordao to work with local lawyers and environmental organisations, as well as organisations for the protection of indigenous people to draw up even more plans and maps. For more infos subscribe to our newsletter!
The donated money will be used to secure land for indigenous cultures while protecting the forest. We want to keep this project as transparent as possible.
Haux. Haux. (beginning, ending, harmony)
What can I do?
Donate to our donation account, a donation receipt will be sent to you at the beginning of next year (please send your name, address and amount by email to contact@living-gaia.org).
Living Gaia e.V.
IBAN: DE48 4306 0967 1150 1986 00
BIC: GENODEM1GLS
Keyword: Amazon land purchase
or donate directly via betterplace.org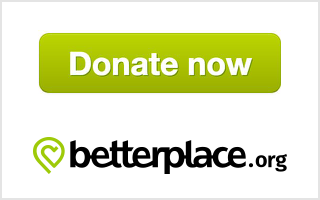 Dear supporters of our project "Amazon land purchase"
thank you very much for your donations!
We are very happy and motivated to continue with our goal of creating and maintaining a safe, sustainable habitat for the Huni Kuin and the Amazon with its flora and fauna.
Over 50.000 Euros have been donated via betterplace.org and our Living Gaia bank account already!
Would you like to use a donation as a (birthday) gift?
Perfect, you can download an official donation receipt on your own if you donate via betterplace.org. You can also enter the name in whose name you want to donate. You will receive all instructions in an email from betterplace.org after a successful donation.
You want to tell your family/friends/colleagues about the project and need some information in your hands?
You can download our flyer about the project free of charge online in a PDF version. There are two QR codes, so it's easier to get all the important information on your mobile phone. For a newer model the normal camera is sufficient, for older models a QR code scanner is required. Here is a link for QR scanners for Android or iOS. It is also a very good way to spread the project in a more sustainable and resource-saving way.
Would you like to get involved and support us?
Contact Marie or Alexandra and tell them about your specific ideas how you can support the project. Maybe you would like to organize a school donation run/marathon, a bazaar/flea market, singing circles/donation concerts. There are many possibilities, let's be creative together! Get some inspiration from former events.